Careers with Crusader Fence
About Crusader Fence:
Crusader Fence Company is the premier public-works and industrial fence installer in Northern California since 1993, but we aim to be a world-class employer by putting our employees first.
Crusader values inform every aspect of our business: from a positive work environment to delivering the highest quality work to clients. We strive to earn and re-earn Crusader's exceptional reputation daily, starting in-house. We know that the way we conduct business privately mirrors the way we do it publicly, so approach it all with integrity, respect, preparedness, and hard work. 
We are immensely proud of the kind of company we have created with our extraordinary team. 
At Crusader, we believe in:
Safety and Professionalism
Our work requires that we take the safety of every member of our team extremely seriously—and no one takes this charge to heart more than Crusader. 
We know that in order for our team to do their best work, we have to take the best care of our team. Our company's dedication to professionalism hinges on how we treat and protect our employees, and that means never taking a chance when it comes to safety. 
Crusader goes above and beyond the basics: from offering the highest caliber training to using the highest quality equipment.
Training:

When it comes to training, we provide extensive safety and skill training to our teams to make sure they have cutting-edge knowledge and skills. We pay for employee training so our staff can develop their careers at Crusader—and we encourage them to do so. To ensure our staff knows how seriously we take their safety, we shut the company down each year for our Annual Safety Expo.

Equipment:

In the field, we pride ourselves in equipping our teams with the very BEST trucks, equipment, and tools. That means our field crews always have the right equipment for every job. We make sure all equipment is sturdy, reliable, and safe so that machinery—not bodies—can bear the wear and tear of jobs.
Respect and Equality
We understand that a company's values are set in the workplace and that the way we treat our staff sets the tone and culture of Crusader—and in turn, the way we interact with clients. We think of our staff as a family. This depends on mutual respect, appreciation, and encouragement. We take pride in a work environment that is supportive and safe for every member of our team, and actively work towards this every day.
Equal Opportunity Employer:

At Crusader, it is important for us to offer equal opportunities to all potential employees and staff members, full-stop. We expect our team to extend this same attitude of respect and equality to every client and know setting this standard starts with us.
Positivity and Team Building
We believe that positivity generates productivity. It also creates a strong internal company culture and community that feels like family, not just co-workers. The positive approach our team brings to work extends to the way we conduct business: our clients choose Crusader not only because of our commitment to outstanding work, but because of the attitude we bring to each job.
At Crusader, it's important for us to provide a positive and encouraging working environment to our entire staff. We want our employees not only to enjoy their work, but to be excited to come in every day. 
The Crusader Family:

Part of building a team we love being part of is making sure Crusader staff has the chance to have fun and get to know each other outside of work. Whether we're cheering together at a 49ers game, celebrating a fantastic year at our holiday party, or furthering our community with Family Picnic Day, we make sure to find time for these positive team-building experiences.
Opportunity and Growth
We offer employees all the benefits we value in our own jobs. 
Beyond being a great place to come to work, Crusader shows our staff how much we appreciate their skills, time, and hard work through:
Competitive Pay:

At Crusader, we feel lucky to have such an incredible team—and we want to make sure they know that, while continuing to attract the best talent in our industry. We believe your time, knowledge, and effort should be not only fairly compensated, but competitively so. We strive to offer pay and benefits that set a new standard among construction companies.

Training and Advancement:

At Crusader, we don't just want to give you a job, we want to help you advance your career and offer you the tools to do so. Aside from offering extensive, paid training to equip you with everything you need to succeed at the start, we hope you'll keep learning here and grow your career with us. If you're just starting out in your career, we hope you'll begin it at Crusader. We support our employees and help them to advance through the ranks, from apprentice to journeyman to foreman.

Exciting Projects:

It's important to us that our employees get to enjoy their work and be proud of it. Our track record of successful projects allows us to compete for top-tier contracts with premier owners and general contractors. Working with Crusader means you'll get to make a difference in our communities by securing schools, utilities, and other public facilities that we all rely on.
Benefits of Working with Us
We only accept job applicants who possess valid documentation and have legal working status in the United States. 
As part of our company, all staff members receive:
Competitive pay

Health care insurance

Life insurance

Paid vacation

Paid holidays

Disability insurance
Procedures to Complete Before Employment
If you are hired, prior to starting work, we'll ask you to undergo several tests to verify that you will be a good fit for our labor-intensive work environment:
Drug screening

Physical exams

Physical abilities tests

Extensive safety training

Complete immigration screening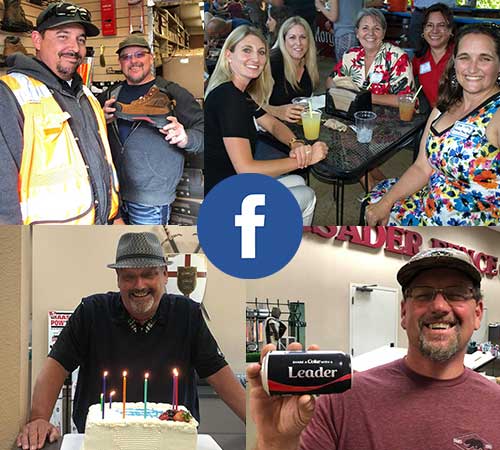 Visit our Facebook page to see more about our team events, our company culture, the types of projects we work on, and the professional equipment we use.
facebook.com/crusaderfence