We can help you select and install the right chain link fence for your budget and security needs.
If you are looking to upgrade the security of your property, there is no more trusted company for the job than Crusader Fence. 
Our knowledgeable team works with all types of properties, from correctional facilities to schools, to assess the perimeter, needs, and potential threats, and provide an ideal solution. We also specialize in state, federal, municipal, and other government projects.
For the past 25 years, we have helped every one of our clients to successfully secure their spaces. Your security is of the utmost importance to us, and we truly take your safety to heart. 
When you work with Crusader Fence, you can be confident in the protection you receive. We provide only the most durable fences and designs. 
Get in touch with us for more information on how we can better protect people and properties.
Our chain link fencing solutions include:
Commercial and industrial chain link

Backstops

PVC fence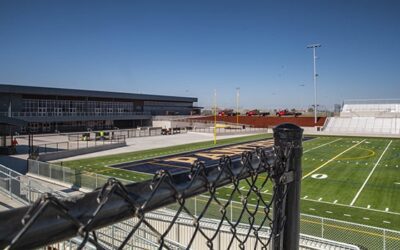 The fencing for the beautiful West Park High School in Roseville, CA encircles a variety of athletic fields, including football, baseball, soccer, and softball. This project was designed and constructed with the look of the campus in mind—enhancing and adding to the grounds, while fulfilling all necessary structural and security needs.
In order to deliver custom athletic field fencing that serves to elevate these facilities and keep the campus secure, Crusader created a tailor-made design plan. Using a variety of materials, techniques, and products, including specially-designed iron fencing, large pipe gates, and tall backstops in combination with chain link and security fencing, we constructed something truly unique to fit the school's needs.
Because schools have tight academic schedules and budgets to adhere to, Crusader works closely with clients to stay on top of scheduling, cost, and pre-construction tasks so we're always ready to go as soon as our clients are ready for our work. We know there are a lot of moving parts when it comes to academic projects, so we make sure every stage is well-planned, excellently constructed, and efficiently completed. Our clients can focus on their own work because we never take our eyes off ours.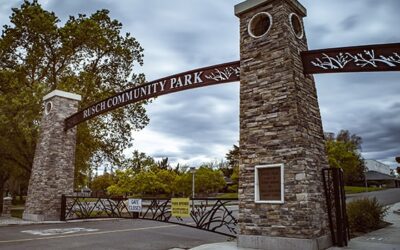 This project was an exciting collaboration for Crusader. Our work at Rusch Community Park allowed us to use our creative design skills in ways that typical fencing jobs don't. Crusader worked collaboratively with the city to design beautiful, structurally sound fencing and gates that not only fit the park's needs, but add something truly special to the space.
Working off our client's initial sketch, the Crusader team added their expert touch—shaping it to craft a design plan that would strike the balance between form and function. Because of our team's unique talents and experience, Crusader was able to provide necessary input from a construction and a design standpoint. This meant considering constructability, durability, and aesthetics, and all the ways building materials affect finished product.
Crusader's sturdy, striking fencing integrated seamlessly to complement other design elements and enhance the beauty of the park. We are thrilled that Crusader work not only became part of the park, but part of the community and city landscape. The photos of our work on this project speak for themselves, particularly the focal point of this design: the spectacular entrance archways, created using custom iron and laser-cut design work.
Our track record for beautiful, secure, and lasting work shows we have the capability—and experience—to consistently deliver the highest quality finished product on every job. We understand that construction in recreation spaces means we're building a new part of the community, so we pay attention to every detail, no matter how small. While Crusader produces spectacular, meticulous work, we never put a strain on client time and energy. Our team of experts never requires hand-holding or constant questioning: at Crusader you can trust we'll listen well, plan accordingly, and deliver the best products and construction every time.
Get an estimate for your project
Call (916) 631-9191
7 a.m–5 p.m. Monday–Friday
Or tell us how we can reach you.
Our team of professional estimators will contact you to understand the particular needs of your project. Prior to visiting the project site, we can often provide information about the types of fencing that can be used to meet your specifications, inclusion options for gates, custom ironwork, and heightened security.
California's top security solutions and fencing contractor since 1993.
For over 25 years, our experienced team has designed and installed secure fencing solutions for schools, commercial properties, public utilities, entertainment buildings, government facilities, and more. No matter the property, our expertise can help you secure what matters most.
Architecturally Integrated Security.
With Crusader Fence, design is never an afterthought—it's an integral part of our specialized solutions. No matter what your property requires, we'll find a way to secure and protect it, without sacrificing design.